Blog | 7 Maggio 2018 | Fabio Ciarla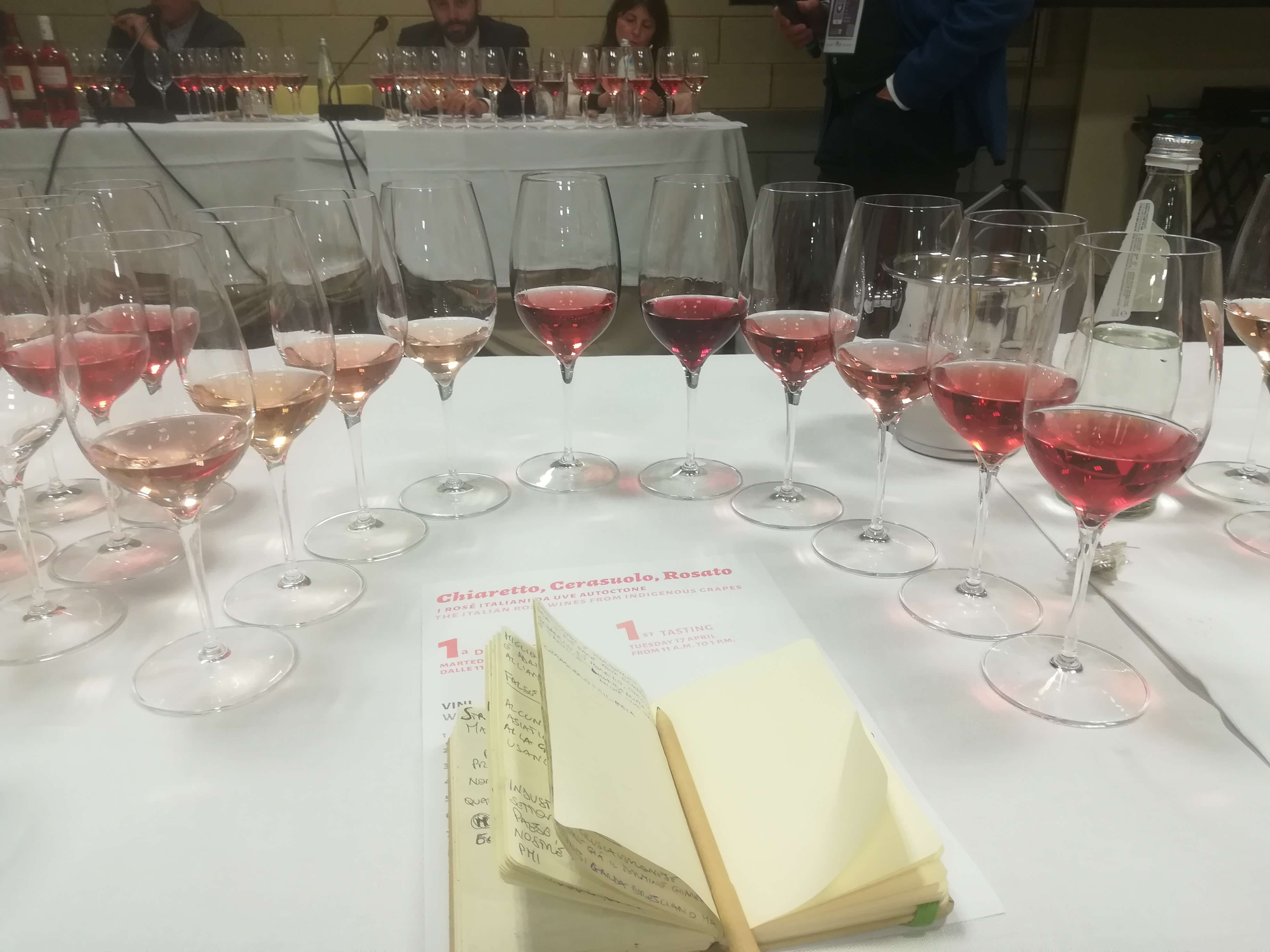 Rosé wines, from native varietals and Angelo Peretti as narrator – My Vinitaly, Part I
Enough's enough, in Italy – the world's third largest producer – consumption of rosé wines is stable or decreasing, whereas in other markets it's rising, often into double digits. Why? My personal take is that it's a matter of ignorance; that is, the fact that we Italians follow labels and clichés. While we squabble about select or wild yeast strains, sulfur dioxide or no, we fail to notice that the world of wine is taking giant steps on macro-topics that we completely ignore. Well beyond natural. Italy needs to cultivate a true wine culture; one that seeks outstanding wines (I'm referring to a recent article by Carlo Macchi on Winesurf), and stimulates a restauranteur or wine shop owner to ask the customer: "What would you like? White, red, or rosé?
Consciousness-raising around the value of Italian rosé wines, as well as how to develop common strategies, has been undertaken by the Protection Consortia for Bardolino Chiaretto, Valtènesi Chiaretto, Cerasuolo d'Abruzzo, Castel del Monte and Salice Salentino. From north to south, through central Italy, with a simple yet forceful idea: rosé wines from native grape varietals in traditional production zones. I don't know your take on this, but in my opinion it seems to be more than what our competitors are doing, with the exception, perhaps, of the French (where, in any case, production is concentrated in a single, but vast, area). One of the leading experts was called upon to narrate this new adventure and guide an intriguing tasting: Angelo Peretti, a fan of rosé wines and patron of The Internet Gourmet. The agreement among the Consortia was signed on April 14 in Bardolino, followed by their debut at Vinitaly with a series of public tastings: a movement that represents less than 18 million bottles; nothing in comparison to the 200 million produced by France (among Provence, Languedoc, and Côtes du Rhône), as 34% of French consumers drink rosé wine vs. 6% in Italy. And this is precisely the problem that the agreement signed by the Corsortia hopes to solve.
During the first of the tastings, the President of the Corsorzio Valtènesi, Alessandro Luzzago, stated: "We like rosé wine because 'it's fashionable'. We've been making rosé forever. Using specific varietals, this is our tradition".
Let's get to know these varietals, starting from the north. In Chiaretto di Bardolino, on the Verona side of Lake Garda, we find Corvina Veronese; in Chiaretto Valtènesi, on the Brescia side of Lake Garda, Groppello; in Cerasuolo d'Abruzzo, the only Italian DOC rosé, we of course find Montepulciano; down in Apulia we find Castel del Monte in the northern part of the region, which makes brilliant use of Bombino Nero, followed by Salice Salentino in the south, the only Italian DOCG rosé, where Negroamaro reigns supreme. All unique in their own right in terms of aroma and body, but all approachable. It would also be useful to discuss the different production techniques, the soils and more, but doing so would take too much space here. I'll leave you with some tasting notes and a brief summary of the typologies, but above all I urge you to continue to choose, wisely, quality Italian rosés . . . maybe even following Angelo Peretti's advice on The Internet Gourmet.
BARDOLINO
Bardolino Chiaretto Doc 2017 – Poggio delle Grazie
Bardolino Chiaretto Doc Heaven Scent 2016 – Vigneti Villabella
The color verges on onion skin with copper hues. The Corvina Veronese is strongly citrusy on the nose, savory on the palate, the saltiness coming from the dolomina (a sedimentary rock) that dominates the area on the Verona side of Lake Garda, and noticeably tannic.
VALTÈNESI
Valtènesi Chiaretto Riviera del Garda Classio Doc Sant'Emiliano 2017 – Pratello
Valtènesi Chiaretto Riviera del Garda Classico Doc Rosagreen Bio 2017 – Pasini San Giovanni
The first wine reflects the blend of recent decades (Groppello with Sangiovese, Barbera and Marzemino); whereas the second is 100% Groppello, reflecting the most recent production guidelines. In the local dialect, "grupel" means 'strawberry', so you can imagine the aroma of this wine. The color is onion skin, and the wine is soft on the palate.
ABRUZZO
Cerasuolo d'Abruzzo Doc Ferzo 2017 – Codice Citra
Cerasuolo d'Abruzzo Doc 2017 – Tiberio
With Montepulciano, the color of this wine verges on pink cherry: lighter in the Citra than in the Tiberio. The force of this varietal comes through, as does the expression of the territory. Crisp, but with significant body, and fruit and spices on the nose.
CASTEL DEL MONTE
Castel del Monte Bombino Nero Docg Veritas 2017 – Torrevento
Castel del Monte Bombino Nero Docg Pungirosa 2017 – Rivera
Bombino is a natural varietal for rosés; it has thin skin, and with its late ripening not always do all of the berries ripen to full color. This produces crisp wines, with red fruit (not fully ripened) on the nose, which makes it a joy to quaff. The color is between rose petal and cherry, but lighter than the Montepulciano.
SALICE SALENTINO
Salice Salentino Rosato Doc Le Pozzelle 2017 – Candido
Salice Salentino Negroamaro Rosato Doc Rosalbòre 2017 – Cantine San Pancrazio
With its bold cherry color, we're in Apulia, but farther south and at a lower elevation than Castel del Monte. Here, Negroamaro yields rosés with intense ripe fruit on the nose, while also maintaining its crispness. Boldly acidic with a typical bitter almond finish.
Una risposta a "Rosé wines, from native varietals and Angelo Peretti as narrator – My Vinitaly, Part I"